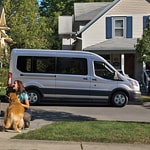 The Ford Transit has been in production for more than 50 years. However, the newest models come with some of the most exciting capability features that make this passenger wagon an appealing part of your commercial fleet.
These features start with the Ford Transit's intelligent all-wheel drive train. This drive train has the ability to detect what kind of road or surface that you are driving on and adjust the grip of the wheel and pace of the van to maximize safely. It is designed to minimize the chances of you being in an accident or getting into a tailspin or rollover.
The Ford Transit also comes with a 10-speed automatic transmission. This transmission makes it easy to shift from gear to gear without you having to reach for a manual gear shift. The transmission also resists wind drag and maximizes the fuel efficiency to give you more miles to the gallon.