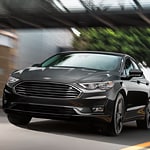 The Ford Fusion is a popular mid-size sedan that balances performance and fuel efficiency. Let's take a look at the performance behind the Fusion.
At higher speeds, the Electric Power-Assisted Steering will automatically adjust to provide you with improved handling. It also has features such as drift control that can adjust the EPAS depending on weather and road conditions for a more responsive steering and smoother trip on the road. For those that want more control, there's the Intelligent all-wheel drive system. IT works to adjust the amount of torque sent to the front and back wheels as needed to maintain traction.
For those looking at the Fusion Hybrid, it pairs an 88kW electric motor and 2.0L 4-cylinder gas engine to give you up to 188 horsepower. Alongside the electronic CVT, you can get up to 43 mpg in the city and 41 mpg.