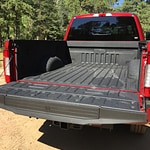 Just take one look at the Ford Super Duty Truck and you will realize that this is a vehicle you can really go to work in. Beyond that, you can take anything that you need with you on a family vacation. It is comfortable to drive and has many productivity features to get you there in style.
When you have a trailer behind you, it is important that it remain stable. That is often difficult to do, but the trailer sway control makes it much easier. This will help by applying brakes and throttling down the engine power when needed to keep the trailer in its proper position.
You will also gain the benefit of the trailer tow camera feature that will give you a clear picture of what is going on behind the truck. This will also provide you with assistance as you go in reverse. Take time to test drive the Ford Super Duty when you visit Candy Ford.