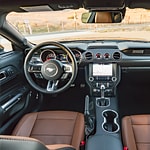 The Ford Mustang has been created with incredible performance features, which includes the following.

Engine capacity
The model has a base engine size of 2.3 liters turbocharged, producing a horsepower of 310 at 5500 revolutions per minute and a torque of 350lb-ft r3000 revolutions per minute. The inline cylinder and the superior torque reduce the vibrations when Ford is at high speed.

Direct injection
The direct injection makes the model generate more power with minimal fuel emissions due to the gas breakdown into small droplets.

Active Valves exhaust
The active exhaust valve in the Ford Mustang has four settings standard, quiet, sport, and track. Drivers can set the system loudness based on their requirements. The 16-valve engine makes it easier to take in air and push out exhaust on-time.

Steering wheel
Ford Mustang has a heated steering wheel where the driver and the front occupant can control the cabin's temperature.

Emergency assistance features
The car can automatically contact the emergency services during a severe crash when the airbags are deployed.

For more information about the Ford Mustang, performance features, please visit us at Candy Ford.